Virtual Museum
This virtual museum was made possible through the generous bequest provided by the estate of Dr. C.H. and Lenore Andrews.
View the Dr. C.H. and Lenore Andrews Virtual Museum
Dr. Herb & Lenore Andrews Biography

Dr. Cyprian Herbert Andrews
Born: 1896, Sackville, NB
Died: 1988, Prince Albert, SK
Dr. Herbert Andrews was the son of Methodist minister and doctor W.W. Andrews and Nellie Greenwoode. They moved the family to Regina circa 1911 where Herbert's father was the first principal of Regina College, now the University of Regina.
During the First World War Herbert served in the Royal Flying Corps as a flight instructor in Texas. After the War he returned home to earn a Bachelor of Arts at the University of Saskatchewan and then went on to Rush Medical College in Chicago to earn his Medical Degree in 1927 or 1928. While studying he contracted tuberculosis, and upon graduation spent four years recovering at Fort San, a tuberculosis hospital outside Fort Qu'Appelle, SK. After convalescing Herbert worked there as a doctor and met nurse Lenore Ramsland. They married in 1934 and moved to Prince Albert.
In the late 1930s and early 1940s the Andrews lived in England, where Herbert continued post graduate studies in ophthalmology and otolaryngology, which he practiced upon his return to Prince Albert in 1942. He furthered his ophthalmology studies in New York and became the director of the Low Vision Clinic at the University of Saskatchewan, also serving on the local board for the CNIB.
Dr. Andrews practiced in Prince Albert until his retirement in 1978 at the age of 82.

Lenore G. Andrews
Born: 1910, Buchanan, SK
Died: 1996, Prince Albert, SK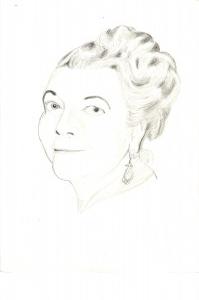 Lenore was the daughter of American immigrants Magnus Ramsland and Sarah McEwen, who came to Saskatchewan in 1903. Her parents were both Liberal MLAs for the district of Pelly. Lenore was homeschooled until grade four, and then continued her education in Kamsack and Regina College. After high school she trained in radiography and physiotherapy at Saskatoon City Hospital. She then took a job at Fort San in Fort Qu'Appelle where she met Herb.
When they were in England Lenore drove an ambulance during the Blitz and worked as a radiographer. Upon returning to Prince Albert Lenore worked in her husband's medical office.
Lenore followed in her parents' political footsteps and was president of the Prince Albert Women's Liberal Association, and later the Saskatchewan Women's Liberal Association. In the 1965 Federal election she ran as the Liberal candidate for Prince Albert, but did not win. She ran against John G. Diefenbaker, Peter Kachur and John Daschuk.
The Andrews lived in the Lestock Reid house at 157 19th Street West. This house was one of the oldest buildings in Saskatchewan, starting as a log house in 1878. The log house was covered in stucco and additions to the house were constructed in 1912. The Andrews were proud of their home and liked to share its history. The house was demolished in 1981, three years after the Andrews moved to an apartment.